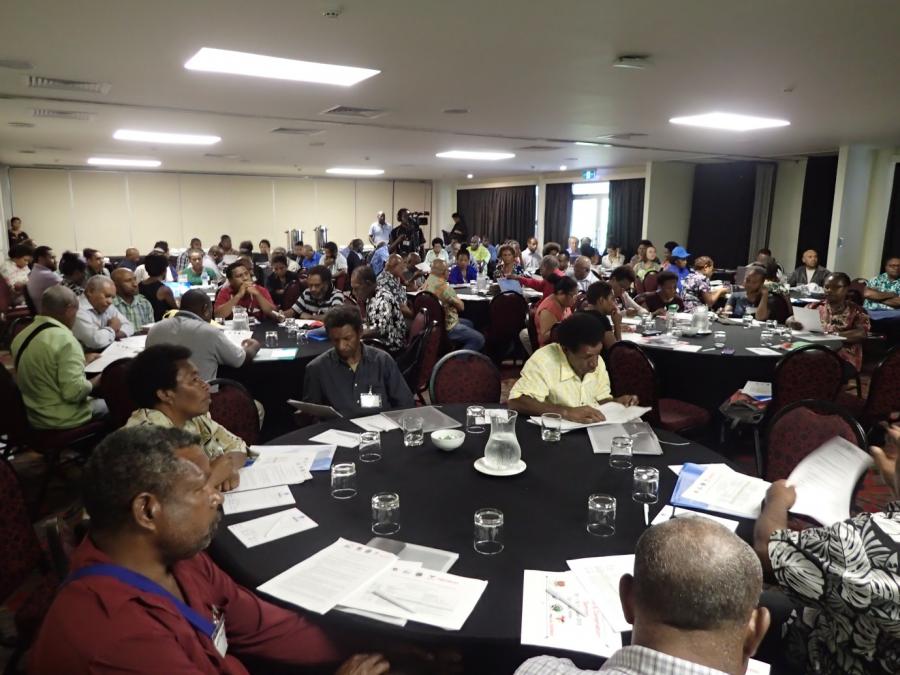 The CEPA-JICA Biodiversity Project and Conservation and Environment Protection Authority (CEPA), in collaboration with Exxon Mobil PNG LNG Ltd and PNG Mama Graun Trust Fund, successfully hosted the biodiversity and Conservation seminar at Gateway Hotel, Port Moresby, from 16th-20th October. The theme of the seminar was "Conservation and development challenges. What biodiversity research can offer in the 21st Century?" The purpose of the seminar was to mobilise like-minded conservationists, developers, researchers, policy makers and Protected Area practitioners in Papua New Guinea to discuss biodiversity conservation issues. Over 53 organisations from the government, non-government Organisations (NGOs), industries, universities, community based organisations (CBOs) and landowners attended the seminar and the report launching. An average of over 130 participants attended the seminar and report launching per day over the five day event, where 33 presentations were made.
Running parallel with the seminar was the launching of the biodiversity book by Exxon Mobil PNG LNG Ltd, covering its project site in Southern Highlands Province. That launching coincides with the the launching of the biodiversity survey reports of Varirata Nation Park, conducted by CEPA-JICA Biodiversity Project . The findings were presented by Dr Allen Allison and Nittya Simard of Indo-Pacific Conservation Alliance (IPCA), contracted by the CEPA-JICA biodiversity Project. Reports launched include the summary report of the flora and fauna, Invasive Species Management Plan, fauna and flora guidebooks, and the Environmental Monitoring Plan.
The Member of Parliament (MP) for South Bougainville, Honorable Timothy Masiu, whop was presented throughout the seminar duration, proposed to host the next Biodiversity seminar in South Bougainville, in 2019.