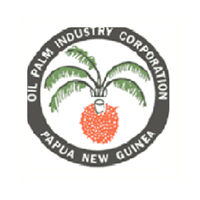 The Oil Palm Industry Corporation (OPIC) is responsible for providing extension services to the smallholders, out-growers and settlers within the precincts of nuclear estates of oil palm growing provinces. OPIC's key role is to provide efficient delivery programs and develop market infrastructure for its smallholders and out-growers.
Oil palm is the third major crop with 14% of the annual export values. It covers land area of 58 000 hectares (estate 33 000 ha and smallholder 25 000 ha, involving about 7 000 families). The estates produce 65% of the output and 35% from the smallholders.
The oil palm industry supports about 4.5% of all rural households and their annual production is at the rate of 12% since 1997. The overall growth rate of the industry since 1997 has been 15.5% per annum.
Three major schemes (Hoskins, Bialla and Popodentta) produce the bulk of the palm oil in the country. All the schemes operate their own mills producing crude palm oil entirely for export. OPIC was established by an Act of Parliament in 1992 to take reign over the oil palm industry in place of the 'extension services' of the Department of Agriculture and Livestock. It was geared to improve the economic and social wellbeing of smallholder oil palm growers throughout Papua New Guinea by providing an appropriate field extension and development services comparable to that of the private sector as well as to reign over regulatory function of the industry on behalf of DAL.